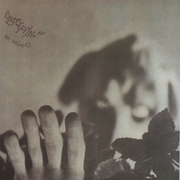 " Fingerprince" is the fourth album by The Residents. It was recorded in 1976-77, and was released in 1977. It was meant to be the first three sided album, but this idea was rejected because of budget issues, and the title of "First 3 sided record" being stolen by Monty Python. So, the additional material was released on an EP titled "Babyfingers". While side A is mostly complete songs, side B is more of The Residents' infamous concept art, known as "Six things to a cycle". Its concept is that after man takes over, another being comes and tries to take control as well.
Track Listing
[
]
- You yesyesyesyes You
- Home- age Conversation
- Godsong
- March De La Winni
- Bossy 
- Boo Who?
- Tourniquet of Roses
- You yesyesyes Again
- Six things to a cycle
Babyfingers

[

]
- Monstorous Intro
- Death in Barstow
- Melon Collie Lassie
- Flight of The Bumble Roach
- Walter Westinghouse
Trivia 
[
]
- "March De la Winni" was also used as the  intro to the "Third Reich N' Roll" video.
- "Walter Westinghouse" also appears as a track on "Residue of The Residents".
- "Death in Barstow" , "Melon Collie Lassie", and "Watler Westinghouse" appear on "The Residents' Radio Special".
- "Bossy" is a one minute song, possibly making it an influence for "The Commercial Album".
- A music video was made for "Melon Collie Lassie", but it was never released. It was screened in Paris on 9/15/15. It starred "Bridget Bardot", the man who played Skinny in "Hello Skinny".
- Babyfingers was released 3 times. First in 1978, with a limited edition of 25 - 40 copies, with modified "Santa Dog '78" sleeves. The second release was in 1981, with the cover being the one featured above. The final time was in 1985, with no cover and on pink vinyl.
- A 1988 reissue of "Fingerprince" was pressed on purple vinyl.