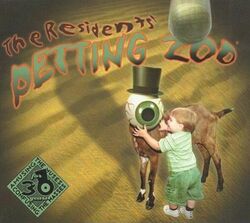 "Petting Zoo" is a compilation by The Residents. It compiles tracks from "Meet the Residents" to "Demons Dance Alone". It was released in 2002.
Track Listing 
Edit
- Betty's Body
- Wolverines
- Kick a Picnic
- God's Magic Finger.Road
- Hanging by his Hair.Road
- Fire Fall
- How to get a Head (Edit)
- The Aging Musicican (Edit)
- The Sour Song
- Jello Jack (Edit)
- Harry the Head
- Saftey is the Cootie Wootie (Edit)
- Boy in Love
- Would we be Alive? (Edit)
- Moisture
- Hello Skinny
- Constantinople
- Godsong
- Smelly Tounges
- Icky Flix Theme
- This compilation is the offical 30th Anniversery compilation.