Jurassic World: Dominion Dominates Fandom Wikis - The Loop
Play Sound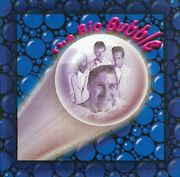 "The Bg Bubble- part four of the mole trilogy" is the final part of "The Mole Trilogy" by The Residents. Its plot is about the Molehots, the original moles, wanting to make a return. A new Molehot band called The Big Bubble grabbed the attention of the leader of the Molehots, Kula Bocca. Even though he doesn't like their music, he hires them to represent the cause. They performed "Cry of the fire", and sung a part of it in the Molehot language. The language was outlawed since the war, leaving the audience shocked. Kula Bocca saw the effect the band had on the people, and falsley sent Ramsey, the lead singer, to prision for speaking in the language. After many protests, they let him go. This is the group's first offical album.
Track Listing
[
]
- Sorry
- Hop a Little
- Go Where You Wanna Go
- Gotta Gotta Get
- Cry for The Fire
- Die- stay- go
- Vinegar
- Firefly
- Fear of The Future
- Kula Bocca Says So
Trivia
[
]
- It was pressed on pink vinyl in the same year.
- "Hop A Little", "Cry For The Fire", and "The Big Bubble" were all performed at the 13th anniversery show.
- This album replaced an uncompleted project called "Man", which was based off of the success of the "Man's World" single. Two tracks from it are included on "Roosevelt 2.0"- "Ugly Beauty" and "Siren Song of The Shrunken Head".