Tags:

apiedit

,

Visual edit

Line 1:
Line 1:
 

[[File:Residents - Snakey Wake (Full Album)-0|thumb|right|335 px]] [[File:Snakey_Wake.jpeg|thumb|Cover of the "Snakey Wake" cd.]]

 

[[File:Residents - Snakey Wake (Full Album)-0|thumb|right|335 px]] [[File:Snakey_Wake.jpeg|thumb|Cover of the "Snakey Wake" cd.]]

 
 
−

"The Snakey wake" is a CD of studio recordings of songs played live at Snakefinger's funeral. It was released as a limited edition CD in 1988.

+

"The Snakey wake" is a CD of studio recordings of songs played live at Snakefinger's funeral. It was

 
⚫
 
 
 
⚫
−

==Track Listing==

 
 
 
 
+

{| class="track_list track_table"

−

- Six more miles

 
 
+

|1.

 
+

|Snakey Wake 20:10

 
+

|

 
+

|

 
+

|-

 
+

|

 
+

|2.

 
+

|Snakey Wake Live 22:01

 
+

|

 
+

|

 
+

|-

 
+

|

 
+

|3.

 
+

|N. Senada Live at the Snakey Wake06:42

 
+

|

 
+

|

 
+

|}

 
 
 
+

===<nowiki/>===

−

- Lament

 
 
+

The Residents met Philip Lithman in 1969. They became immediate friends and began playing music together. Snakefinger participated in many Residents projects with 1986 being a particularly good year for their working together. Plans were made to tour again in 1989, but fate decreed otherwise. While on a European tour, Snakefinger died on July 1st, 1987 in Linz, Austria. He was buried in London, and many of his friends in San Francisco found it difficult to accept a death so far from home. So The Residents organized a party, a wake. They arrived in black with black net wrapped around their bodies and each carried an open black umbrella. They went to their instruments without introduction and played a series of old English laments and Hank Williams' "Six more miles". This newly remastered CD presents you the studio version of this special performance (as issued by UWEB in 1988) plus the whole recording of the live performance which was previously only available as a digital download. It also includes a special set by N. Senada.

 
 
 
+

=== credits ===

−

- Exotical

 
 
+

released April 18, 2017 

 
 
 
+

Performed by The Residents. 

−

- Primal

 
 
+

Live recording by Philip Perkins. 

 
+

Remastered by Christian Loebenstein. 

 
+

Produced by The Cryptic Corporation. 

 
+

Layout by Lisa Robotka.

 
 
−

- Depart

 
−
 
−

==Trivia==

 
−
 
−

- There also a mp3 of these songs performed live, and also contains the track "N. Senada set".

 
−
 
−

- This is the second UWEB release, "Santa dog '88

 
⚫
 
−
 
⚫
 
 

[[Category:UWEB]]

 

[[Category:UWEB]]
---
Revision as of 12:53, 10 December 2018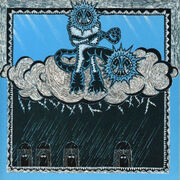 "The Snakey wake" is a CD of studio recordings of songs played live at Snakefinger's funeral. It was - This is the second UWEB release, "Santa dog '88 " being the first.
- This cd has a limited edition of 500 copies.
1.
Snakey Wake 20:10
2.
Snakey Wake Live 22:01
3.
N. Senada Live at the Snakey Wake06:42
The Residents met Philip Lithman in 1969. They became immediate friends and began playing music together. Snakefinger participated in many Residents projects with 1986 being a particularly good year for their working together. Plans were made to tour again in 1989, but fate decreed otherwise. While on a European tour, Snakefinger died on July 1st, 1987 in Linz, Austria. He was buried in London, and many of his friends in San Francisco found it difficult to accept a death so far from home. So The Residents organized a party, a wake. They arrived in black with black net wrapped around their bodies and each carried an open black umbrella. They went to their instruments without introduction and played a series of old English laments and Hank Williams' "Six more miles". This newly remastered CD presents you the studio version of this special performance (as issued by UWEB in 1988) plus the whole recording of the live performance which was previously only available as a digital download. It also includes a special set by N. Senada.
credits
released April 18, 2017 
Performed by The Residents.  Live recording by Philip Perkins.  Remastered by Christian Loebenstein.  Produced by The Cryptic Corporation.  Layout by Lisa Robotka.